I've been really into tam hats. Which is funny, because I used to hate hats and had no desire to make any. Tam hats and berets seem to be popular right now, though, and after having seen a couple, I got on a kick of knitting and crocheting them. I'm faster at crocheting, so those are the hats I've finished first, but I do have knitted tams on my needles, too.
I tried this pattern before, but it didn't turn out right somehow. I thought it might be the kind of yarn I used or that I couldn't find the hook the pattern specified anywhere, so I used one that was a millimeter larger. I ripped out the first one, then tried again with some Lion Brand Homespun yarn instead. I liked this result MUCH better.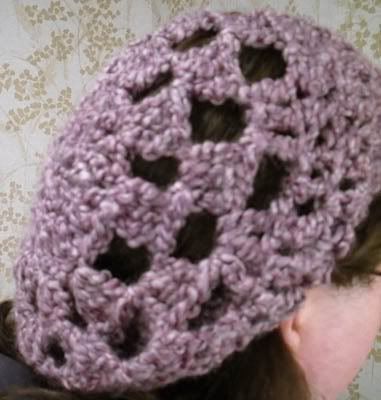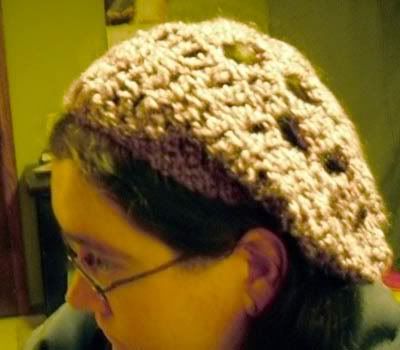 With these kinds of hats, I prefer something bigger and flopper, so I like this one better than the wool one I posted about earlier, even though it's not as soft and bouncy, really.
In truth, I didn't follow the pattern very well... I ended up going it alone on the second row or so, but if you want to make a similar hat for yourself, the original pattern is located here: http://creativeyarn.blogspot.com/2007/10/new-soft-tam-beret.html