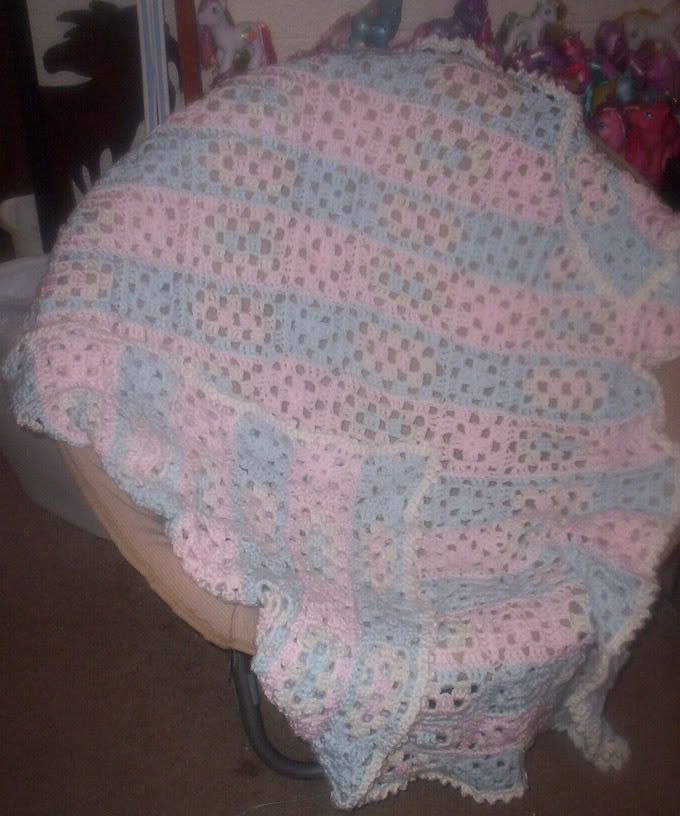 I had done two of the Homespun blankets before I moved on to something else. I found a free pattern on a leaflet in the yarn department at the store, and thought that it looked like it would be a challenge for me at the time.
I wish I had a better picture of it, and I also wish I still had the blanket! I was still really new to crochet at the time, and didn't have anybody I could ask about anything I was having any trouble with or unsure about, so my connections were not able to hold up to machine washing or extended use. I feel embarrassed about that now, looking back, but it was a good lesson for me to learn so that I could make sure my future projects were strong and able to withstand the use I hoped they would be put to.
This afghan turned out to be rather large in size, considering that it was a baby blanket pattern. I liked it a lot, too. The yarn I used was Red Heart Soft Baby in pink, blue, and white. Two strands were held together, so it was somewhat thick.
I do still love this pattern, and am strongly considering making this blanket again with regular Red Heart Super Saver yarn instead of baby yarn. It'll probably be even bigger, which is A-okay with me! I'll just use 1 strand, though. I don't see any need to use two. And I'll be using a different color combination next time.